CNN Belief Blog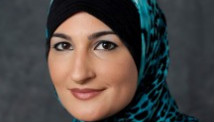 Editor's note: Linda Sarsour is national advocacy director of the National Network for Arab American Communities and director of the Arab American Association of New York. Follow her on Twitter.
By Linda Sarsour, Special to CNN
(CNN) — I've been among the millions mourning the killing of Trayvon Martin, but I'm also mourning the fact that another recent killing has gotten little national attention.
Last week, a 32-year old Iraqi Muslim mother named Shaima Alawadi was found brutally beaten with a tire iron in her El Cajon, California, home and died three days later. A note reportedly left beside her said, "Go Back to your country, you terrorist."
As an Arab-American Muslim mother of three, I instantly thought about myself and my family.
View original post 615 more words