i bought a bunch of netflix at 55 per share. get on the bandwagon
The Buzz - Investment and Stock Market News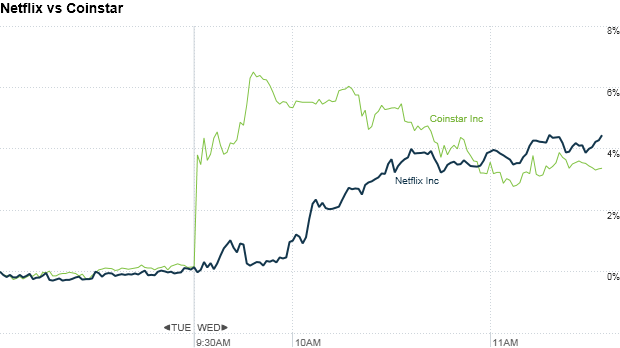 Netflix has more competition, but investors seem to think that the streaming video market is big enough for both of them.
Coinstar, the parent of Redbox, and Verizon (VZ) said Tuesday that they had reached an agreement with movie studios and device makers to "bring thousands of popular movies to consumers at home and on the go."
The joint venture, called Redbox Instant, will cost $8 per month, which is what Netflix happens to charge users to watch movies and TV shows online. Verizon and Redbox first announced they were working on the service earlier this year. It will finally debut later this month.
Despite the news, shares of Netflix (NFLX) rose 4% in midday trading. Coinstar (CSTR) shares were up 3%. Netflix was also getting a boost from Morgan Stanley analysts, who raised their price target on the stock to $105. The…
View original post 152 more words